In today's evolving world, the push for environmental consciousness is more pertinent than ever. The eco-friendly movement has gradually woven its way into the fabric of our lives, influencing our lifestyle choices and permeating our business practices. At the forefront of this green revolution in the realm of commercial cleaning services stands Reno Sparks Janitorial - a name synonymous with quality, efficiency, and a genuine commitment to the environment.
Redefining Commercial Cleaning in Reno
The common perception of commercial cleaning often involves harsh chemicals and non-renewable resources. Reno Sparks Janitorial dares to challenge this convention, providing services that not only leave your office space sparkling clean but also help in preserving our planet.
Their comprehensive array of services covers every inch of your business premises. Whether it's the natural tile floors or vinyl composite tile (VCT), the experienced crew at Reno Sparks Janitorial employs cleaning techniques such as stripping and waxing, ensuring your floors retain their shine and longevity.
Carpets, known for their knack for collecting dust and grime, are given a new lease on life through steam extraction, bonnet carpet cleaning, and minimum moisture carpet cleaning methods. This ensures a clean and hygienic workspace, fostering a healthy environment for employees and customers alike.
But the meticulous service does not stop at the floors. They tackle ceilings, a frequently overlooked spot, with industrial-grade cleaning products that extend the life of your ceiling, obviating the need for frequent recoating or replacement.
Embracing Green Cleaning Solutions
Reno Sparks Janitorial sets itself apart with its Green Cleaning System. Recognizing the increasing desire for sustainable living among businesses, this service employs biodegradable and environmentally friendly products in most of their janitorial services. This means that your office space is taken care of without any harm to our environment, proving that cleanliness and eco-consciousness can indeed go hand-in-hand.
The Green Cleaning System is particularly crucial for businesses that prioritize sustainable practices or have Green Building Certifications. Reno Sparks Janitorial works hand in hand with these businesses, ensuring they can uphold their green credentials without compromising on cleanliness and hygiene.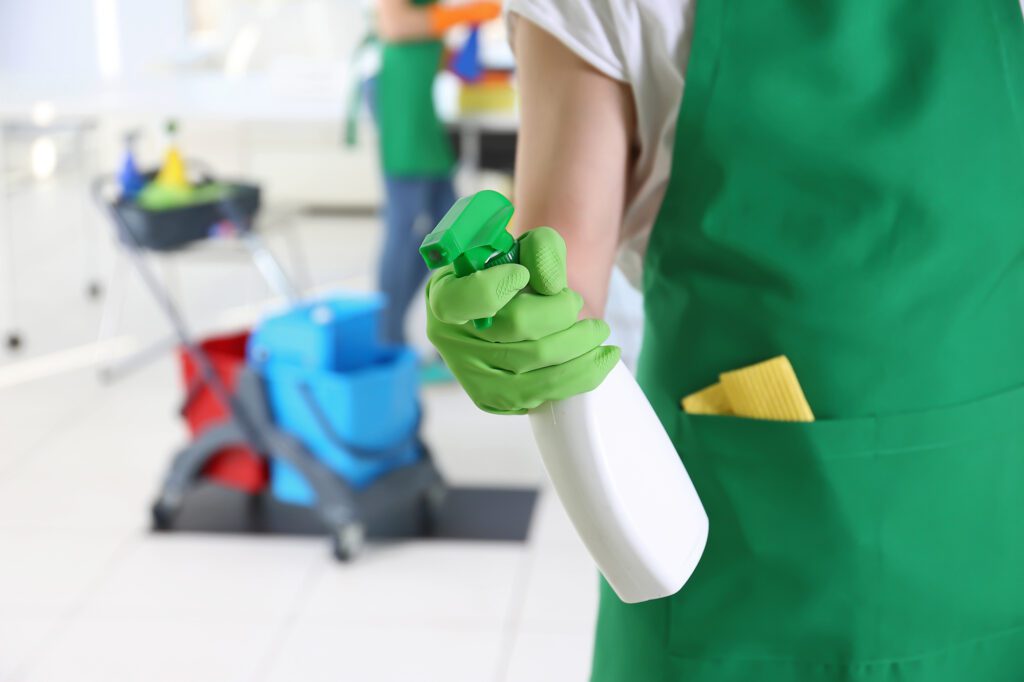 Innovation at the Forefront
The Acoustic Tile Recoating System offered by Reno Sparks Janitorial is an excellent example of their innovative approach to commercial cleaning. When traditional cleaning fails, or the tiles have become highly textured and resist cleaning, this scientifically formulated coating restores acoustical tiles to their original function and aesthetic appeal.
This system is a budget-friendly alternative to replacing expensive tiles and helps reduce landfill waste, staying true to the company's green initiative. In addition to being cost-effective, it also allows years between treatments and ensures minimal business disruption, making it an ideal solution for businesses looking to optimize their cleaning procedures.
A Partnership for a Cleaner Future
When you choose Reno Sparks Janitorial, you're not just selecting a service provider; you're entering into a partnership that places your business needs at its core. Their flexible contracts, regular inspections, and open lines of communication foster a relationship that's built around your unique needs. The experienced and regularly evaluated crews ensure that the service you receive is nothing short of exceptional.
A Call to a Greener Tomorrow
In choosing Reno Sparks Janitorial, you are taking a step towards a greener and cleaner workspace. Their unmatched expertise and unwavering commitment to green cleaning make them an ideal choice for businesses seeking to make a positive impact on the environment.
Why wait to make a difference? Contact Reno Sparks Janitorial today to get a customized rate quote, or call them with any questions for a free estimate. Step into the future of commercial cleaning with Reno Sparks Janitorial – for a workspace that's not just clean, but also contributes to a cleaner planet. The choice is yours. Make it green.