It's the merriest time of year, but preparing the office for a holiday party can be a ho-ho-whole lot of work. Celebrating the accomplishments of your employees by clocking out early and sharing a cocktail is the fun part. The not-so-fun part is the cleaning – both before and after the party. Check out Reno Sparks Janitorial's tips on office cleaning so you can rock the night away at your company holiday party!
Office Party Cleaning Tips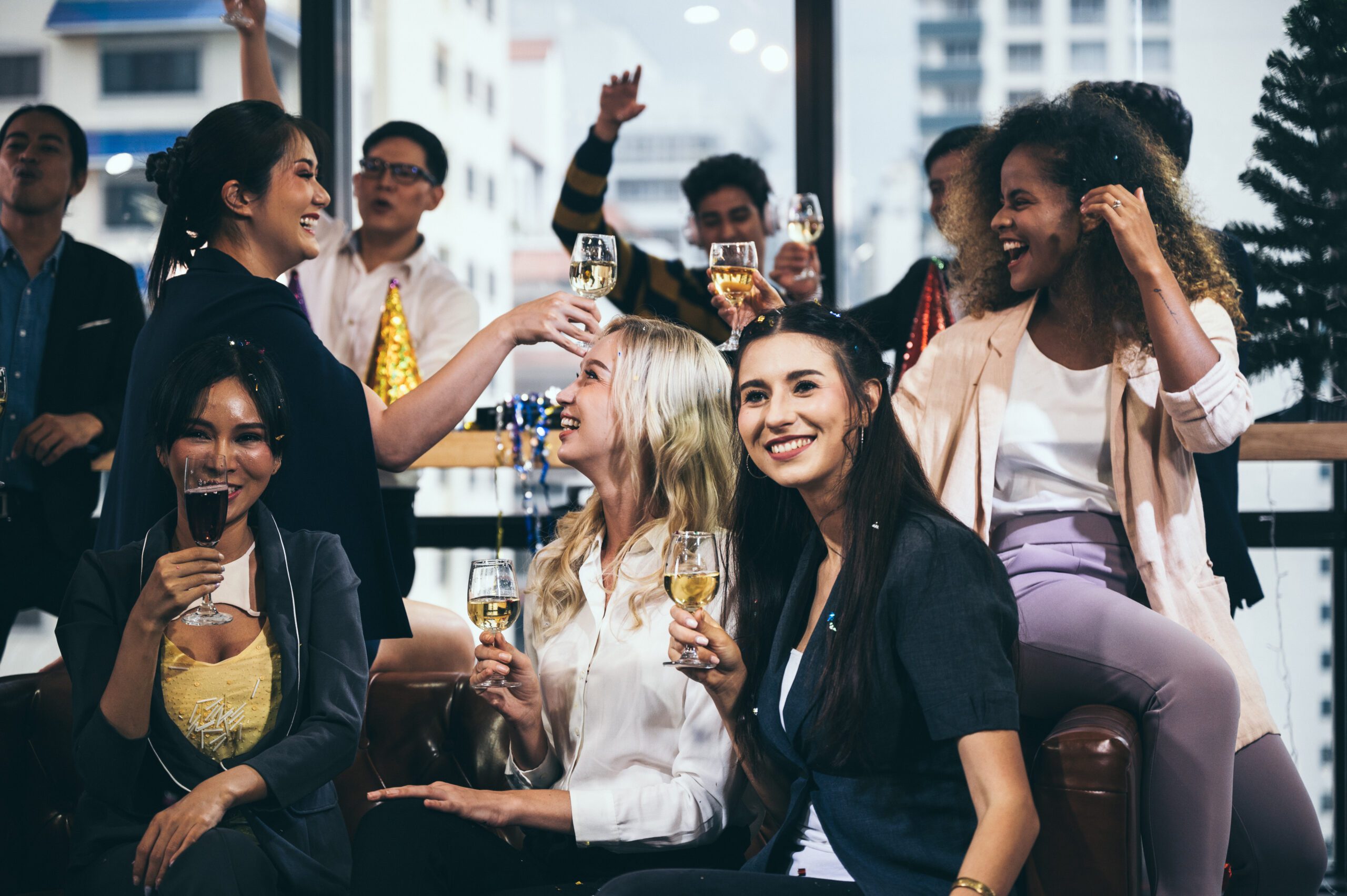 No one wants to have a holiday party in a musty office building. Your coworkers already spend enough time within the walls. Give them a reason to stick around and enjoy the event by tidying up and wiping down. And when the holidays are over and it's time to get back to it, a post-party cleanup is also a must!
Before The Party:
Clean the counters and surfaces throughout the building. Mingling patrons will put food and drinks on anything flat. Start with the big clutter, then work your way around with disinfecting spray and wipes. You'd be surprised at how grimey the surfaces can get!
Tidy up the restrooms. Pick up the wads of paper towels and take out the trash. If you have gloves, wear them! A bit of bleach can go a long way towards killing residual germs. As an added touch, you can plug in a holiday-scented aroma to really get people in the spirit.
Lastly, look to the floors. Start by sweeping and vacuuming, then follow up with a mop. You can have the cleanest office around, and your floor will still be a magnet for dirt and scuffs, so use whatever method is most effective for your space.
After the Party:
Re-clean the restrooms. Swap out depleted soap dispensers, revisit the toilets, and wipe any smudges on shiny surfaces like the mirror. Another coat of bleach should do the trick too.
Check out the kitchen. Start by wiping the crumbs off the cabinets and into the trash. Follow up with sanitizing spray and paper towels. Hand-wash any dinnerware or toss them in the dishwasher. And as much as you want to save leftovers, be realistic. If your coworkers don't pick up their leftovers within a couple days, it's best to toss them and start the New Year with a fresher fridge.
Sort out the office. If you moved any desks or furniture around for the holiday party, restore them to their original location (it's a good time to vacuum in places that are normally covered, too!). Put used decorations in a box for next year, or recycle when appropriate.
Lessen the Post-Party Mess
Taking away opportunities for coworkers to make a mess to begin with is a great way to reduce cleaning time.
Ditch the flaky, crumbly foods
Keep an eye on alcoholic consumption (let loose a little, but not too much!)
Get furniture out of main walkways to avoid bumping and tripping
Assign individuals to pick up wrapping paper, plates, etc. to spread the load
Allow people to sit when eating so they don't spill on the floor
Put out blue bins and general trash bins and encourage recycling
Reno Office Cleaning to Brighten Your Holiday Party
If it sounds like a daunting task to clean up the whole office before and after this year's holiday party, you're not wrong. You have a lot going on, both at work and personally, around the holidays. To ensure a clean, tidy space without the stress, treat it to a commercial cleaning. Reno Sparks Janitorial is equipped with the resources to transform your office into a holiday party venue, so give us a shout! Whether you just need a single commercial cleaning, or wish to sign up for regular visits, we're here to tidy up so you can focus on the things that matter.
Keeping a neat, tidy workplace is crucial to your business's success, no matter what type of facility you call home base. While cutting corners and trusting your staff to clean up after themselves is a short-term solution, it'll probably catch up to your business in one way or another. After all, your employees are there to do the duties in their job description, not clean. That's where Reno Sparks Janitorial's team of commercial office cleaning pros come in! Here are some of the benefits that we can help cultivate in your office, leading to a better business environment for you and your employees: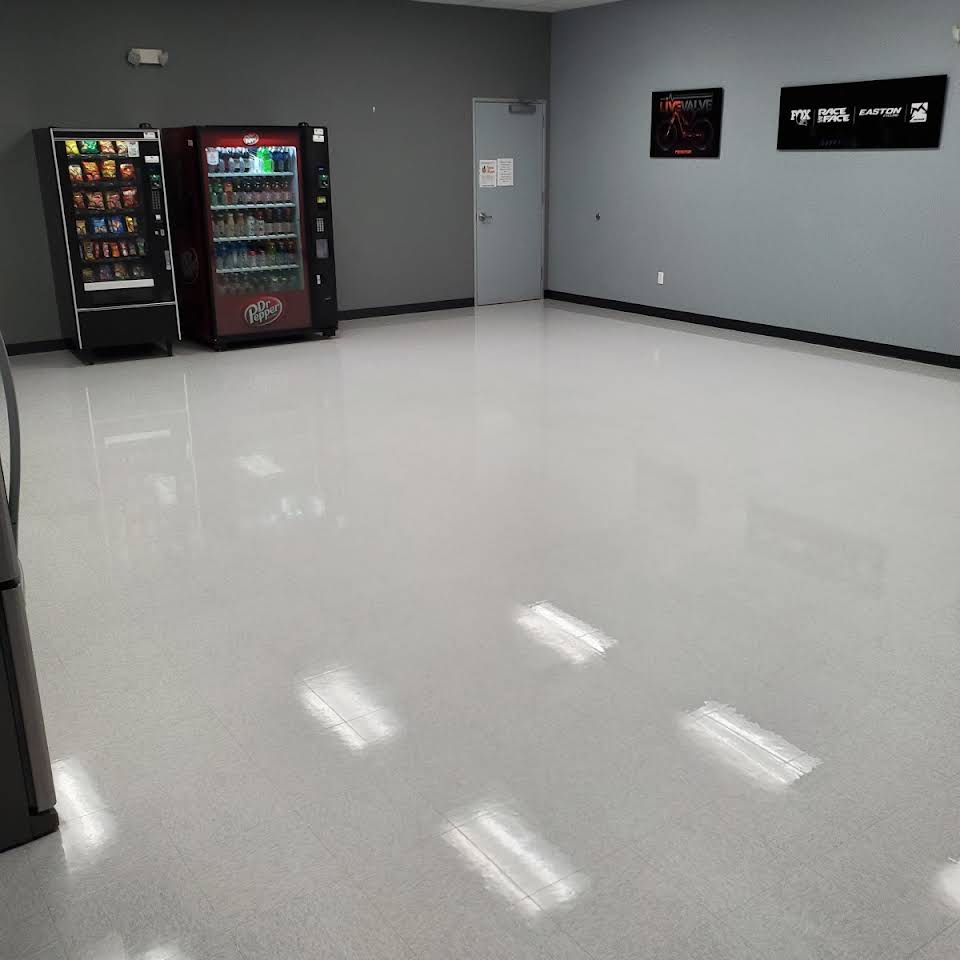 Employee Morale
A clean, professional-looking workplace is a small element that contributes to your business's overall culture, but it can have a large impact on the amount of pride that employees put into their work. Employees are able to show up and put their best foot forward when they don't have to first deal with cleaning their desk or wiping down the kitchen when brewing their morning coffee. In order to do quality work and remain focused, individuals require basic needs. While a functioning computer, adequate lighting, and a usable office chair usually top the list of basic needs, a clean office should definitely be up there in the ranks as well. By implementing a cleaning regimen, it's likely you'll see healthy levels of morale and pride in your workplace.
Reflect A Higher Level of Professionalism
Perhaps you've experienced it, or currently work in an environment where things look… unprofessional! Be it papers strewn about, lunch remnants in the break room (which sometimes doubles as the conference room) or desk surfaces cluttered with junk, it's not good business to have an office that looks like it's in shambles. Your clients deserve respect, and their first impression of your business starts formulating the minute they walk in. When you hire a team to perform commercial cleaning services, you give clients a chance to base their impressions on the amazing character of your employees and the great products you provide. For a reflection of the high level of work you do, it only makes sense to hold your office cleanliness to the same standard.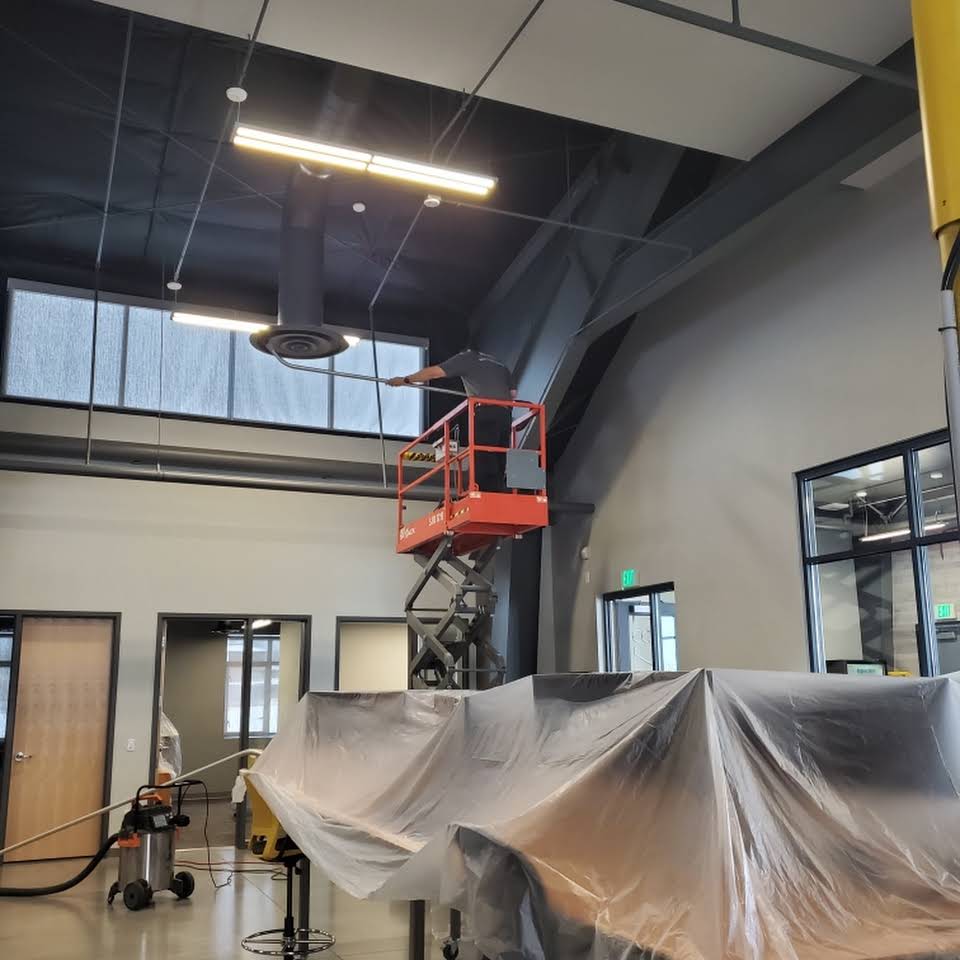 Employee Health
Healthy employees means more productivity. While we discussed the benefits of a tidy office on morale and mental health, cleanliness plays a crucial role in your employees' physical health as well. When counters, doorknobs, bathrooms, and even the ventilation system are not properly disinfected, there's a higher chance for bacteria thrive, and for sickness to spread. With predictions of a particularly aggressive 2022 flu season, it's important to keep your office touch surfaces disinfected regularly. As a result, your business will enjoy fewer sick day call-outs, and your employees can use their allotted time off doing the things they love instead of burning through it being sick!
One Less Thing to Worry About
You're busy. And when you're not directing employees or crunching deadlines, wouldn't you rather spend your free time being productive instead of worrying about the cleanliness of your office?
We are business professionals ourselves, only our job is to alleviate you of the small, but vital task of keeping your workplace clean. We see ourselves as an extension of your business, and are able to scale our services to the level of tidying up that your workplace requires.
Commercial Cleaning Reno NV
Reno Sparks Janitorial has been serving Reno, Sparks, and Carson city for over 14 years, and in that time, we've helped businesses bring out the best in their facilities. Your products, services, and company culture rely on a clean, professional work environment. We understand that the time of our prospective clients is valuable, so check out our Quick Bid form so we can learn more about your needs and how we can help. Thanks for considering Reno Sparks Janitorial, we look forward to helping you reach your business goals, one cleaning visit at a time.
Reno Sparks Janitorial is not just another corporate cleaning service. Reno is our home, and we take pride in making this city's businesses shine. We know you work just as hard to keep your business running smoothly. Our commercial cleaning business is here to lend a hand in making sure it's in great shape, and let you know if anything appears out of place.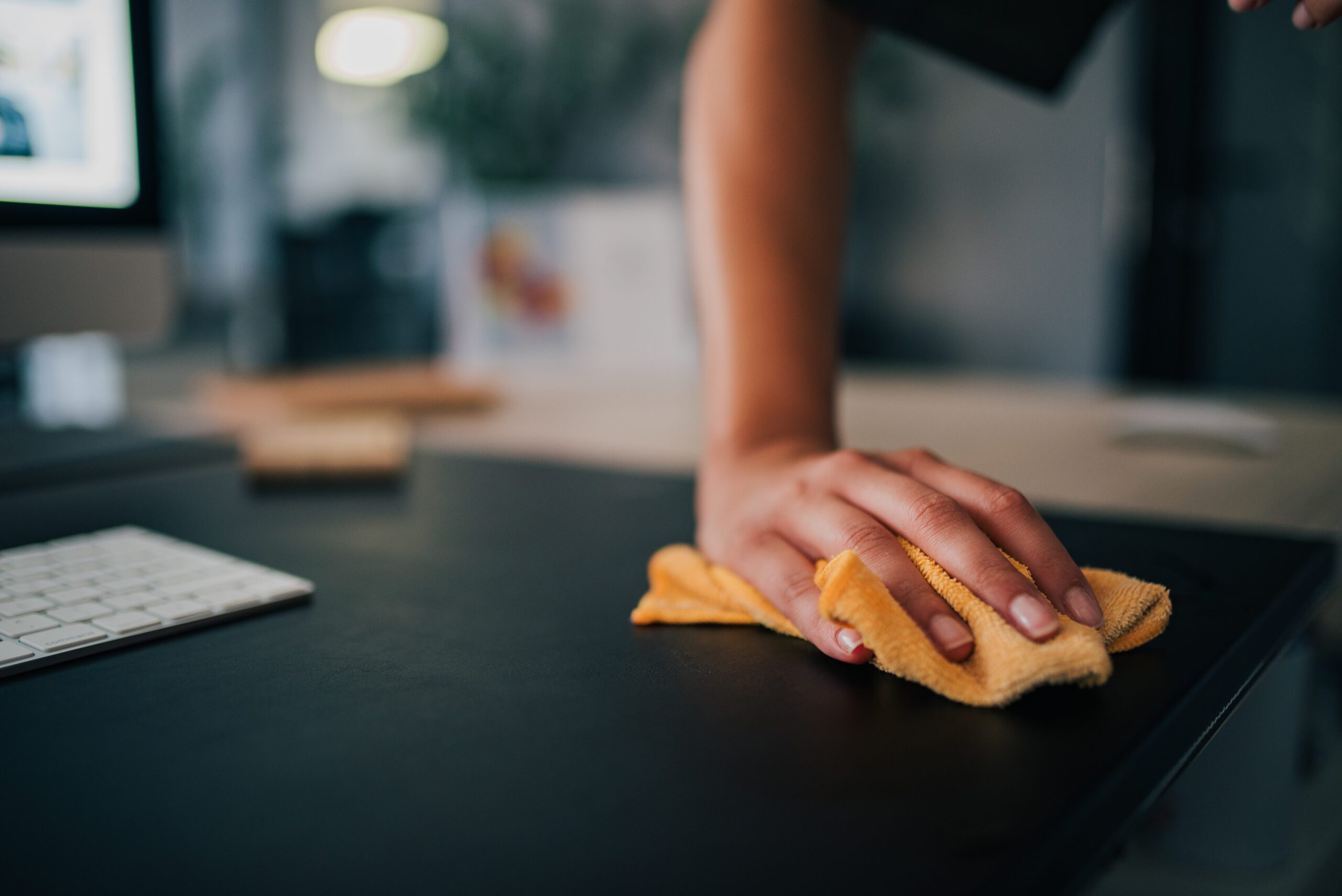 From the get-go, we hire team members that are courteous, hard working, and honest. Our commercial deep cleaning services staff treats your office like it's their own, and is attentive to the electronics, plumbing, and overall condition of the building itself when cleaning.
When you invest in a local, concierge type cleaning service like Reno Sparks Janitorial, you receive open communication between our staff and your management. That means if there's something wrong on the job site, it won't go ignored.
Whether it's a leaking water pipe, broken window, an unsecured front door, our commercial janitorial cleaning servicesteam has their eye on your building's infrastructure. We also take inventory on cleaning products and supplies so there are no delays or interruptions when we show up. If there's ever a problem, we'll notify management to get it sorted. We never sweep things under the rug!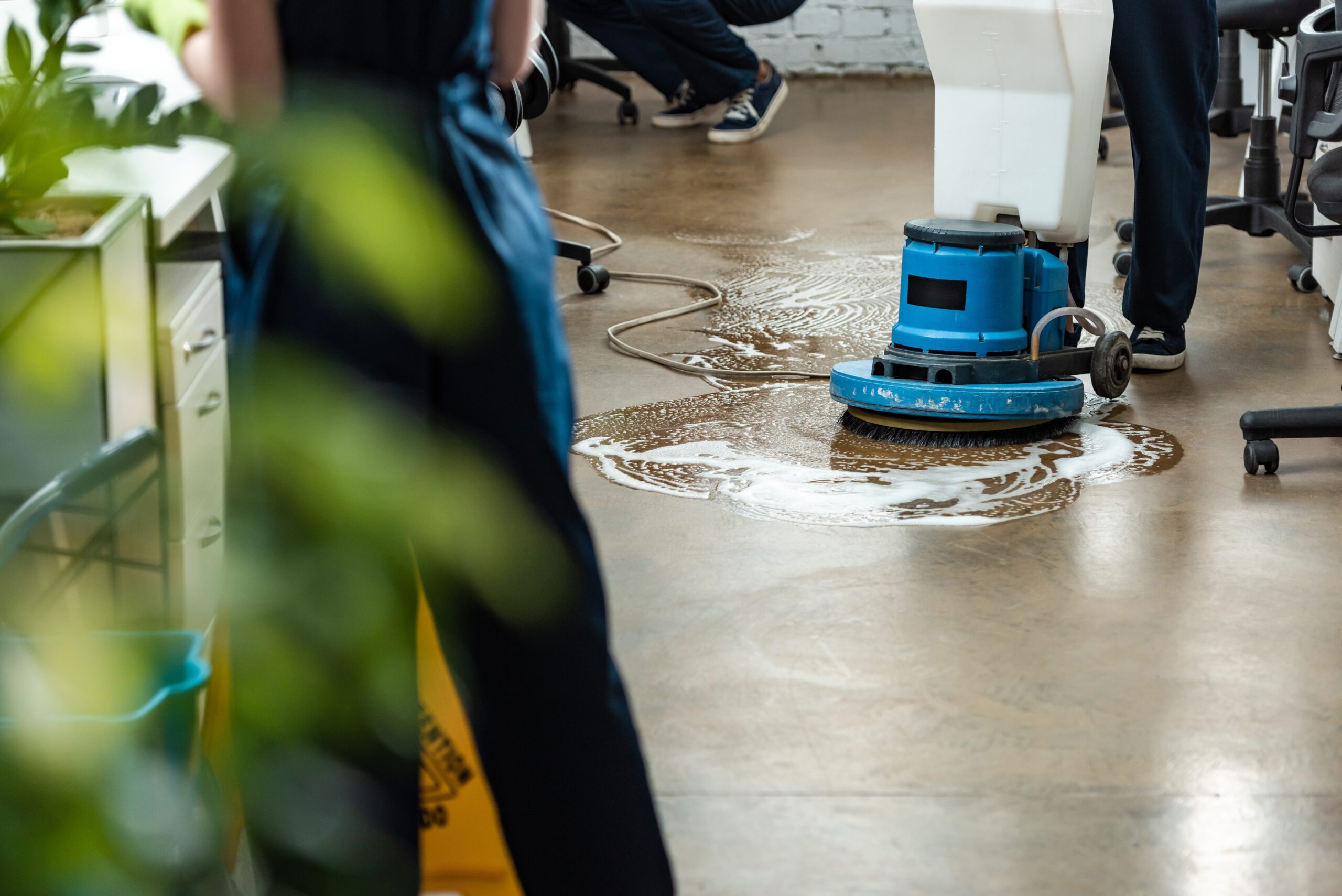 Local Commercial Office Cleaning Services
Reno Sparks Janitorial is a locally-owned and operated janitorial company serving Reno, Sparks and Carson City. We set the bar for the level of trust and service that a cleaning company can provide, guaranteeing satisfaction on each site.
Beyond cleaning, our team goes above and beyond to notify you when anything in your office seems out of place or is not functioning properly. Get in touch with Reno Sparks Janitorial, and trust our expertise to keep your facility clean, attract clients, win first impressions, and ensure the safety of your company.
Commercial building carpets are often high traffic areas, and it's a challenge to keep them looking bright and new. If you're a manager struggling to find time to deep clean your carpeted office, consider calling our local commercial cleaning business to help.
Here are a few commercial property cleaning tips to keep carpets fresh:
Vacuum And Deep Clean Your Carpet
Regular vacuuming removes about 80% of debris and dirt from a carpet, but can't always get all of it. That's why deep cleaning helps to remove any grime in the carpet fibers and below the carpet, too. Carpet grooming is an effective practice to implement because it resets the carpet's fibers back to their original state. Once the carpet is cleaned by a professional team, grooming the carpet with a broom helps it quickly dry.

Consider getting some cleaning tools to keep around the office, too. Carpet brooms are great at reaching deep into areas to remove dirt and grime with their rubber bristles. They have attachments for collecting dust to prevent discoloration, allergies and other health issues. Over time, it helps prevent visible tracks from foot traffic or other wear and tear too.
Provide Desk And Walk-Off Mats
Getting a walk-off mat and placing it in the entrance of the commercial building is another way to stop dirt and debris even before it gets into the office. Placing plastic desk mats help to block stains and deep furniture indentations from forming, too, which can be just as unsightly.
Clean Your Air Filters Regularly
Air filters are especially important during the summer thanks to an uptick in pollen and wildfire smoke. If you neglect to clean them, it can clog with particles and potentially end up throughout the office, including the carpet.
Act Fast to Get Stains Out

Accidents happen and stains on an office carpet are inevitable. Keeping some cleaning supplies in a common area will make a difference in between the next big commercial deep cleaning service. This way you can act fast and the carpet won't be permanently stained.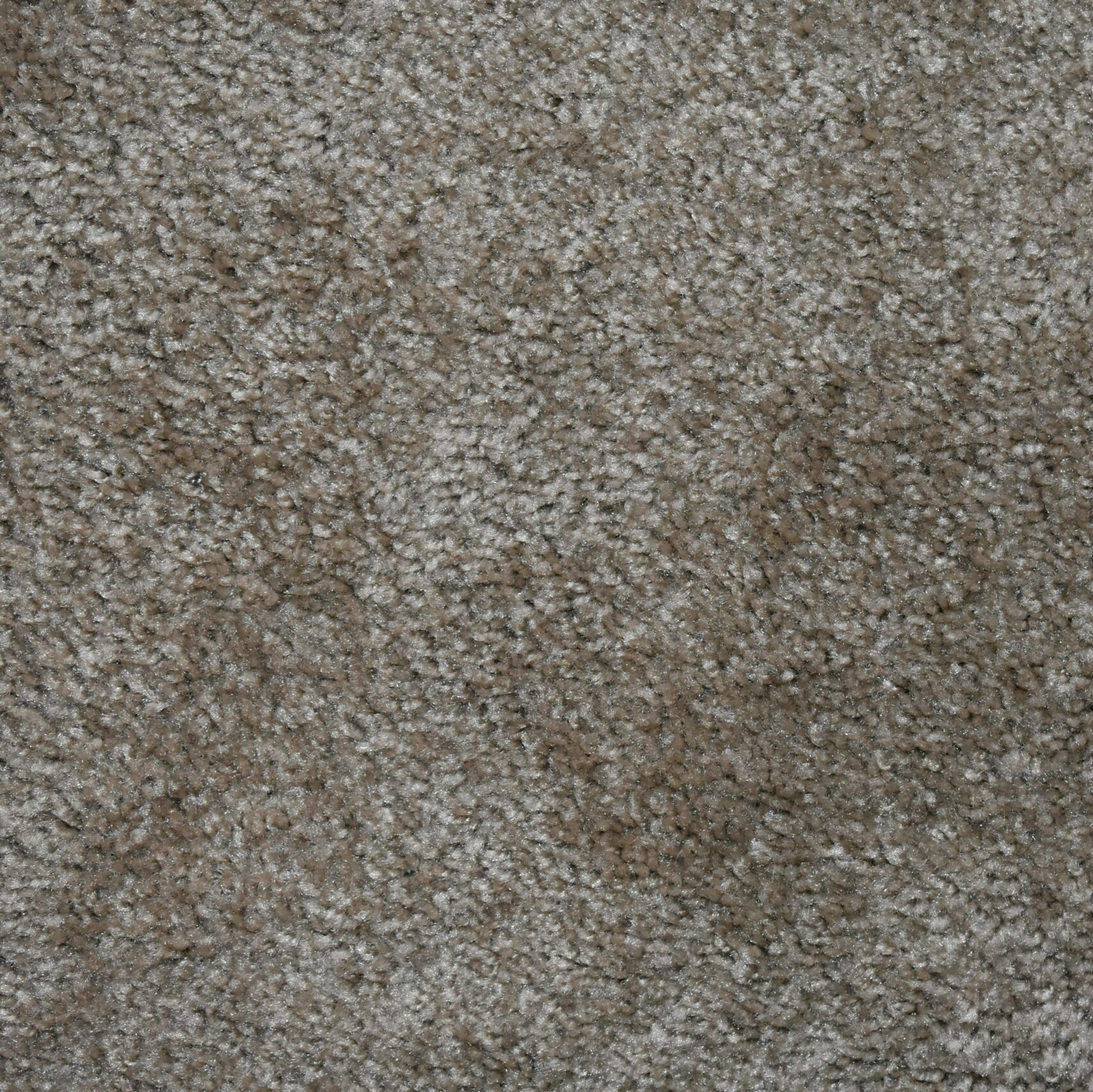 If your carpets see frequent spills and stains, it's best to practice spot treatments by blotting with a paper towel or cloth. A few cleaning solutions we suggest every office stocks include Oxyclean, Resolve, or Hoover. They are non-toxic for your employees to handle and be around, and offer concentrated foaming solutions for a deep clean in-between any scheduled janitorial services.
Use A Reno Cleaning Service
Not all carpets are created the same, but many require a meticulous cleaning routine in a business with employees and customers creating traffic areas. With steam cleaning, hot-water is used to extract the dirt, while dry cleaning uses fast-acting chemicals to remove the grime. Keep in mind that carpets need a professional cleaning at least 2-3 times a year, and the summer is often a great time to do so. Carpet cleaning is great to schedule out in the summer or fall, and once again in the spring after the winter snow melt to remove any damaging salt residue.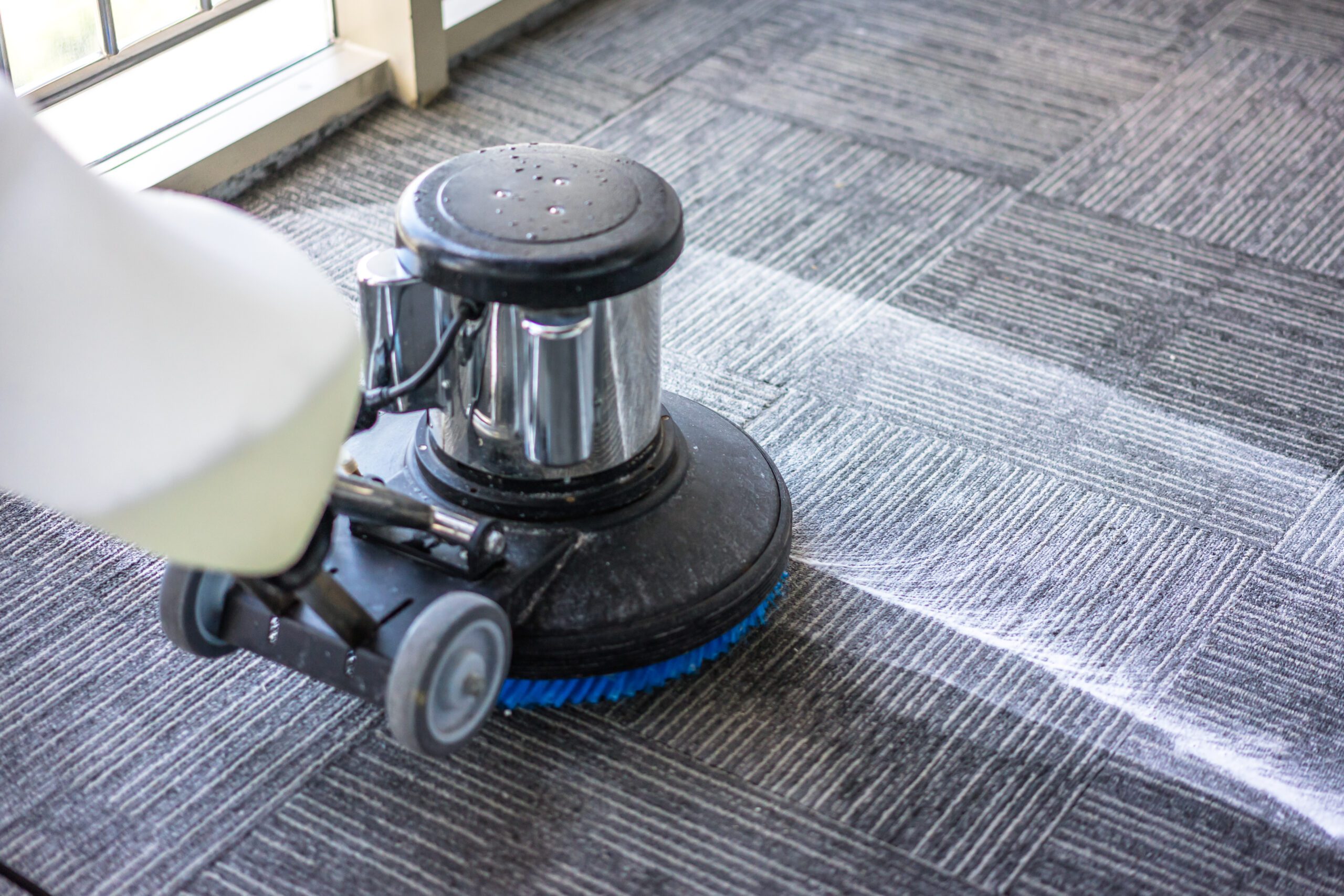 All in all, it not only improves office aesthetics to have a clean carpet, but it eliminates dust, allergens and bacteria from a communal space. At Reno Sparks Janitorial, we prioritize our customers first and see our team as an additional part of those businesses. We strive to provide high quality and thorough commercial building cleaning services to companies of all sizes.
Contact us today for the highest quality carpet cleaning Reno Sparks Janitorial has to offer.
Schedule A Commercial Property Cleaning Today
There are many options for cleaning services in Reno, from large corporations to small family owned businesses. While many choose to opt into services from a well known chain, they often feel the experience is lacking. At Reno Sparks Janitorial, our team offers specialized professional-grade results for an affordable rate. We strive to keep your offices clean, because as a local business, our team understands how important a tidy appearance is.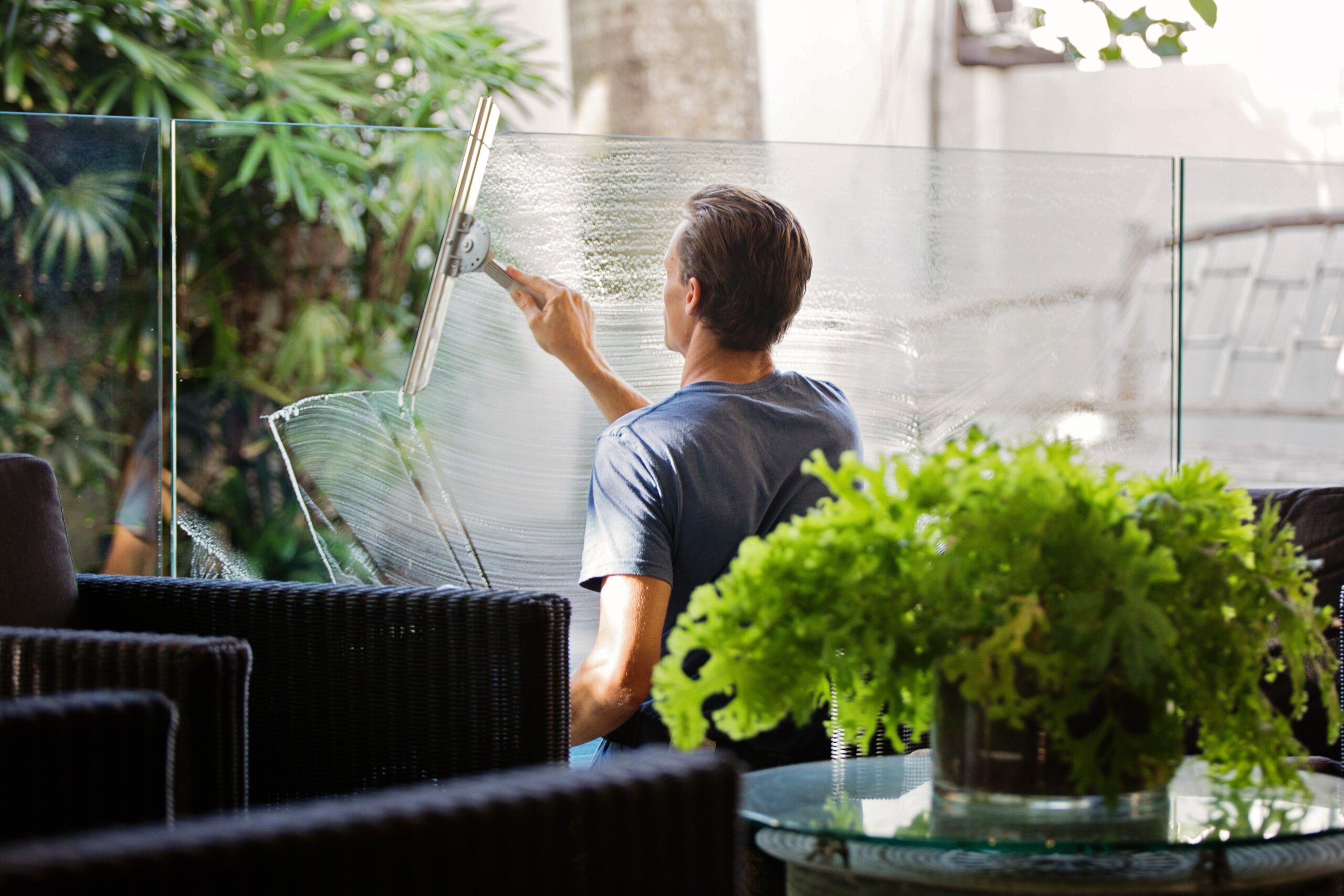 The hygiene habits many of us picked up during the pandemic are not going away anytime soon. As we wrote in our previous blog post, we offer recurring cleaning services such as floor and carpet cleaning to ceiling tile re-coats for businesses big and small. As a Reno cleaning service, we use green cleaning products to protect our staff, your business and the environment. 
The team at Reno Sparks Janitorial is also available to deep clean any food prep areas in your kitchen while complying with health code standards. It's one less thing for your staff to worry about on their list of duties too.
Additional services that our locally owned business offers includes corrugated metal and ceiling cleaning. Stubborn roof stains and build-up of contaminants are no match for our janitorial services, especially because these places are often overlooked when cleaning.
Even better, when you hand off cleaning duties to a janitorial service, you now can focus on running your business and getting the work done. We're here to provide you with peace of mind and provide high quality services, no matter how small or large your business is!
Working with locally owned cleaning services in Reno NV means that you're not only helping the economy, but getting to know our team on a personal level. We are excited to note that many of these long-term relationships have become close friendships, which helps us go above and beyond to get our customers what they want.
If something goes wrong or if you have any questions about our services, getting in touch with our team is a breeze. The same cannot be said for the customer service departments at some of the larger corporations.
Why Should I Hire A Cleaning Service In Reno? 
Larger corporate cleaning chains feel the need to import resources and employees to the community and rarely rely on local businesses for anything they need. They're often very rigid with their policies, which leads to businesses that work with them to feel they're not properly responding to individual needs. 
Locally owned cleaning services in Reno NV are open-minded when it comes to the preferences of their clients. We can accommodate for any sensitivities that you or your staff may have to certain cleaning products, or create a specific scrubbing routine for special flooring, tiles, or walls. 
Security is a top priority for us because we know you want to make sure your office space is in good hands. Working with Reno Sparks Janitorial gives you peace of mind during overnight cleaning sessions since you know our team personally.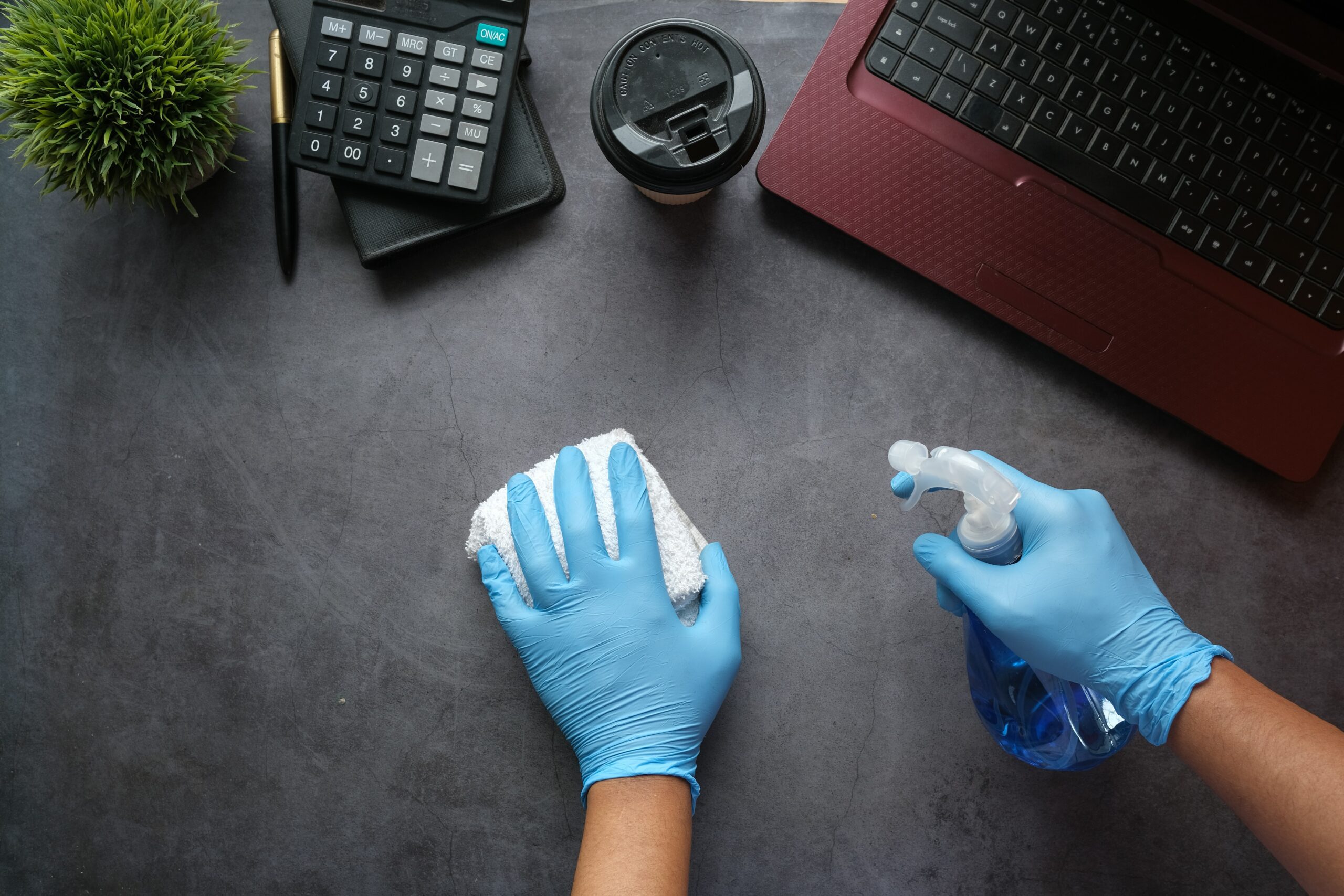 Hiring in-house cleaners is convenient for some situations, but it's not worth the hassle if a team is too small or inexperienced with larger tasks. Professional janitorial services handle daily tasks and anything else you need, and scaling up or down services is easy.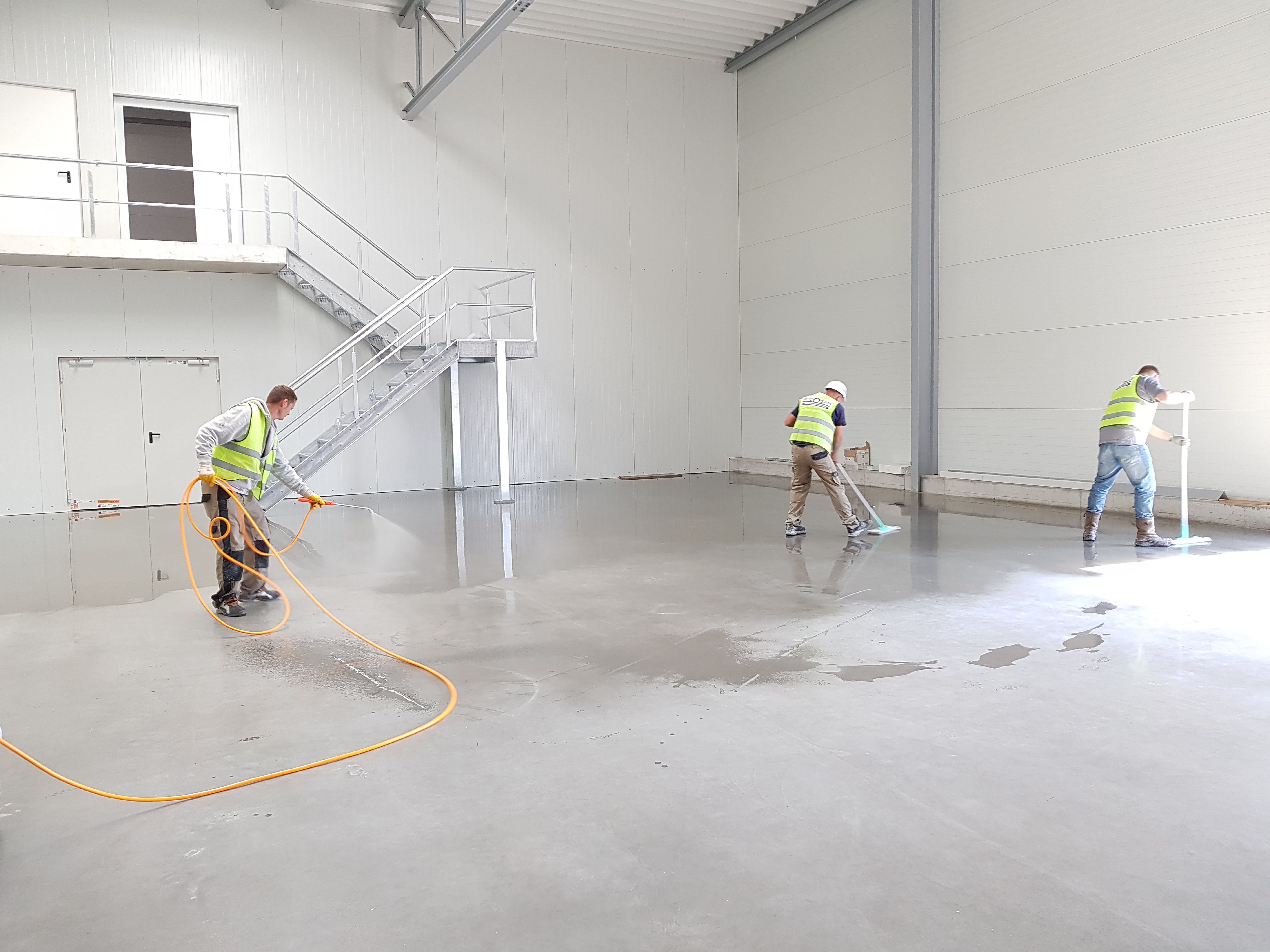 Utilize Our Reno Cleaning Services For Your Business Today
Thanks to our flexibility and consistent standards of cleanliness, Reno Sparks Janitorial takes a different approach compared to some larger cleaning companies. It's important to us to do a thorough job cleaning a business of any size, especially with window washing, carpet cleaning in Reno, and other procedures. You'll feel good about partnering with a janitorial service instead of a corporate cleaning chain. 
Connect with Us Here to Schedule Your First Cleaning
Office cleaning and Reno cleaning services look a bit different since the pandemic hit. It might be obvious to say, but a majority of us started taking cleaning much more seriously than we did pre-pandemic and those hygiene habits aren't going away anytime soon. 
Maintaining a clean workspace is at the core of many business offices' new initiatives not just to prevent the spread of COVID, but to ensure the peace of mind of staff and building guests as well. In 2022, we're seeing office cleaning trends start to evolve from using heavy-duty disinfectants and harsh chemicals to incorporating eco-friendly and safe products. 
Learn more below about how our office cleaning services in Reno are changing to match the top industry standards of today.  
Factors Affecting The Reno Cleaning Service Industry 
Several factors exist that may be affecting the way cleaning services in Reno are performing. Health and wellness are top concerns for business owners and maintaining a clean workspace is of the utmost importance. However, with the time it takes to thoroughly clean and sanitize an area, business owners are seeking out professional cleaning services to stay on top of the upkeep. This has led to an increase in Reno office cleaning services which are designed to free up your team's time and ensure the office is cleaned properly. 
The state of the supply chain is also a contributing factor to how things are changing in the cleaning service industry. The coronavirus has greatly affected distribution within the supply chain by slowing it down significantly. While shipping containers were stuck on the coast of California for months, cleaning supplies were hard to come by. Now that the supply chain is starting to level out some, these issues are less of a problem in 2022.   
2022 Cleaning Service Trends 
At the beginning of the pandemic, cleaning routines and habits were intense. Surface cleaning and air purifying were a must. Heavy-duty ingredients and harsh chemicals dominated other cleaning products. But much of this is beginning to change. The current office cleaning trends for 2022 include the following:
Surface Cleaning 
It was initially thought that COVID-19 could be transmitted via the air as well as surfaces. Disinfectant wipes and bleach were also considered to be the only cleaning solutions strong enough to terminate the SARS-CoV-2 virus which resulted in their considerable use. Today, we know that this isn't the case entirely.
According to the CDC, the spread of COVID-19 is mostly airborne which means surfaces such as desks and doorknobs are less likely to give you the virus. Because of this fact, it's been found that plain soaps or detergents will work just fine to remove most viruses from surfaces which lessens the use of disinfectants that may be harming you and your employees. 
During your Reno cleaning service, Reno-Sparks Janitorial uses safe cleaning products that are proven to be tough on dirt, grime, and bacteria. 
Air Purification
As stated earlier, the coronavirus is essentially an airborne illness that is spread through particles and droplets that contain the virus and get released into the air by sneezing, coughing, etc. Your main cleaning focuses should be on air purification which works to clean the air and rid it of any bacterias or toxins that may be lingering. 
This can be done through various methods, but the easiest change you can make is to incorporate a HEPA filter into your ventilation and filtration system. Other methods may include the use of special oxidation technologies and electronic ionizers. 
You can also hire cleaning services in Reno to help with air purification. Simply vacuuming carpets that have trapped air pollutants in them and using low-emitting cleaning products can also improve indoor air quality. 
Eco-Friendly Cleaning Products And Methods
Environmental issues have been an increasing concern among many Americans and as a result, cleaning trends are starting to adapt to the needs of our ecosystem. A majority of cleaning products used during a Reno cleaning service now include the Safer Choice label which ensures the product has been approved by the EPA to be a "green" option. 
Green or eco-friendly cleaning products are designed to leave a less-damaging effect on the environment. The main goal is to limit exposure to harmful chemicals that may cause severe damage to the ecosystem and our bodies. Typically, the ingredients are less harsh than those found in bleach disinfectants and often the packaging consists of fewer plastics. 
Professional janitorial companies such as Reno Sparks Janitorial offer Green Cleaning Services to their commercial clients. The only difference with these services is that they utilize green cleaning products and implement the best conservation practices possible such as limiting waste. 
Set Up Recurring Cleaning Services in Reno!
The best way to ensure your office stays clean is to set up recurring cleaning services with a professional cleaning company. Reno Sparks Janitorial offers recurring cleaning services for businesses from small offices to condo associations and casinos. We'll handle everything from floor and carpet cleaning to ceiling tile recoats. In addition to all of the regularly scheduled janitorial services for your business, we can provide specialty services for any deep cleaning needs you have.
Connect with us here to schedule your first cleaning!
Are you looking for ways to take part in Earth Day 2022? With this year's theme in mind, "Invest In Our Planet", many businesses are wondering how they can invest in helping the environment while also investing in their own company. The answer may be simpler than you might think with green cleaning services for your business. This way, your company building stays clean and you can feel good about the products and methods used to do so—allowing you to invest in the planet and in your business. 

What is Earth Day? 
Earth Day is an internationally recognized environmental movement that is actually considered the most observed secularity in the world. The movement originated in the United States in 1970 and has been adopted by over a billion people across the globe. Not only has Earth Day spread awareness to environmental concerns worldwide but it's also initiated several long-lasting policies, like the Clean Air Act. Organizations have also been formed to take effective action in improving our impact on the environment. 
What are Green Cleaning Products and Services?
Green cleaning is the process of using environmentally safe and non toxic cleaning solutions and methods. This is done not just for the health of the environment, but also for the health of you, your clients, and anyone else coming into your building. The main goal is to limit exposure to harmful chemicals that may cause severe damage to the ecosystem and our bodies. 
Green Cleaning Products 
Green cleaning products are typically made using biodegradable or recyclable packaging and organic or sustainable materials and ingredients. Some products will be labeled as Fair Trade items which means they've met certain environmental and labor standards. Green cleaning products typically contain:
When it comes to choosing the best green cleaning products to use, we consider various factors such as the product's safety rating, its list of ingredients, and how well they clean. Green cleaning products receive safety ratings to determine just how friendly they are. The EPA applies ratings to products based on how they affect the environment and human health. Typically, a quality green cleaning product will have a rating of a "B" or higher. 

Green Cleaning Services
Green cleaning services use the safest and healthiest cleaning methods to ensure minimal impact on the environment. Professional janitorial companies often offer Green Cleaning Services to their commercial clients. The only difference with these services is that they utilize green cleaning products and implement the best conservation practices possible such as limiting waste.  
Benefits of Green Cleaning Services
Green cleaning services come with a wide variety of benefits for you, your business, and the Earth, including: 
Healthier Environment

- Some cleaning sprays have been linked to the development of respiratory diseases like asthma due to the chemicals found in these products. When green products are used to clean your building, you'll have a much healthier, and happier, work environment for you and your employees.  

Safer Products

- The list of requirements for all EPA-certified green cleaning products ensures that the solutions contain no harmful chemicals or substances. Green products contain no chlorine, phosphates, artificial colors, or artificial fragrances. These products are much safer to breathe in than traditional cleaning products.

Cleaner Air

- Green cleaning practices very closely follow guidelines set by the Clean Air Act which was signed into law in 1970 following the first Earth Day celebration and has been considered a tremendous success since. Nearly 250,000 early deaths had been prevented by 2020 as a result and the percentage of chronic respiratory diseases has decreased. 

Greater Knowledge of Ingredients

- The ingredients that make up green cleaning products are non toxic and often very simple and all-natural as well. This makes it fairly easy to recognize the ingredients that are being used around you and your staff. 

Peace of Mind

- Using green cleaning services ensures that your business follows all of the best cleaning practices not just for your health, but for the health of the entire planet. There's no guilt when you go green.  

Green Cleaning with Reno-Sparks Janitorial 
If living green is important to you or your business has a Green Building Certification, we can use biodegradable environmentally friendly products when providing our janitorial services. Contact us today to set up routine Green Cleaning Services in honor of this year's Earth Day!
Spring is in the air and there's never been a better time to refresh and fix up your commercial building after a long Northern Nevada winter. Our team provides another set of eyes to your cleaning requests, ensure they are handled and take quick action to deliver the best cleaning service in the Greater Washoe County region. 
Reno Sparks Janitorial encourages you to schedule biannual cleaning services once the weather starts to get warmer. Having a clean workplace has been proven to increase productivity and boost morale for workers, so take the time to spruce up the space and welcome everyone back to a sparkling clean space. It's also a known stress reducer because the area is free from pesky germs and allergens.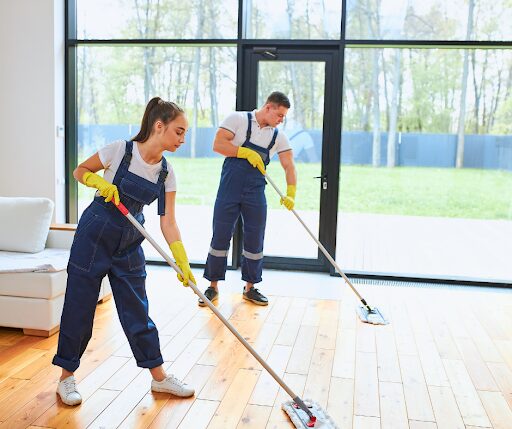 What Can I Do To Prevent Messes and Clutter In The Workplace?
After a big snow storm, it's a challenge not to track in mud once it all starts to melt. Even just a simple fix of adding doormats inside and outside, or if your workplace is pet friendly, giving your pups a proper wipedown before they come inside makes a big difference.
Our Reno carpet cleaning services uses methods like steam extraction, bonnet carpet cleaning, and minimum moisture. No job is too big or too small for our commercial deep cleaning services! Our crews are experienced and can help you schedule your high quality carpet or floor cleanings.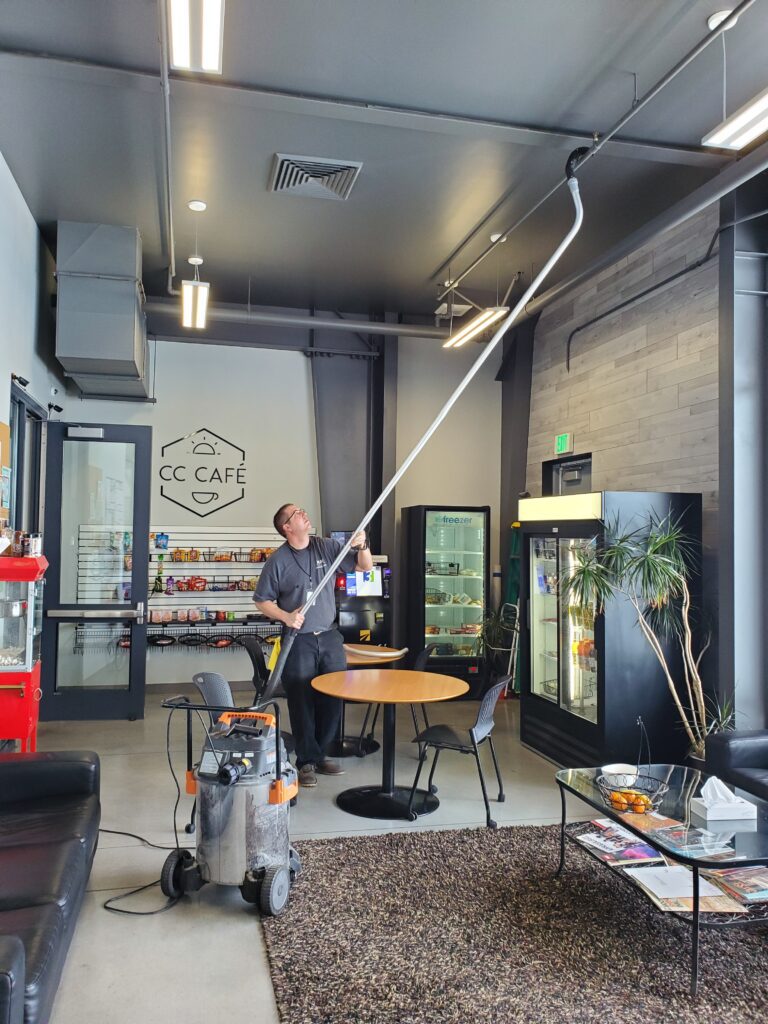 Reno Sparks Janitorial is your top company when it comes to commercial property cleanings. We even make sure to take care of window services for the rainy season to prevent streaks, mold and mildew or leaks. 
With the unpredictable weather, sand and dust in the Washoe Valley, spring is the perfect time to have your business's windows washed. Our team can make sure to clean some of the most overlooked areas, like behind copy machines or refrigerators, baseboards and ceiling vents. We tailor our commercial janitorial deep cleaning services to meet your needs. Our 30-day flexible contracts give you peace of mind when adjusting your schedules.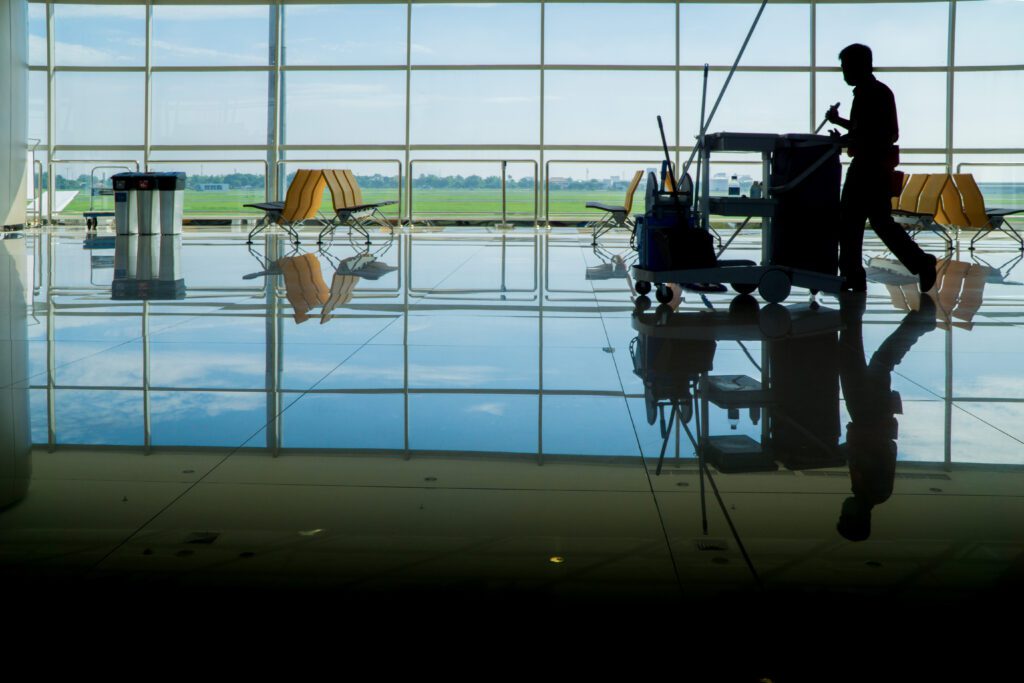 Schedule Commercial Building Cleaning Services Today
When you work with Reno Sparks Janitorial, you can rest assured you're being taken care of. Whether it's general spring cleanings as a service on top of routine maintenance, or a larger project like ceiling cleanings, just trust our team to get the job done. Connect with us here to get a quote for our commercial deep cleaning services!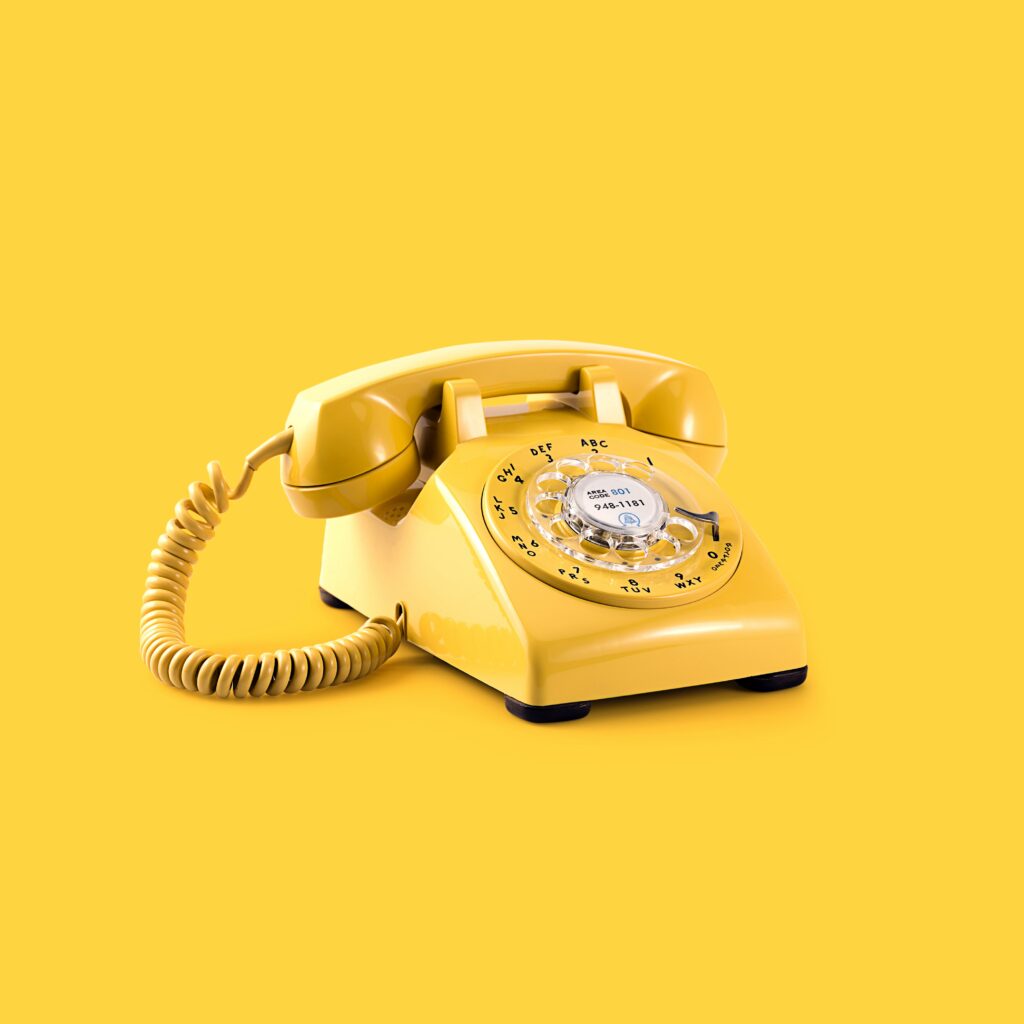 Communication is the key to any relationship, including business or professional relationships. To have good communication, both parties must be as transparent as possible with each other, or in other words, have an open line of communication. Not only does this help you get more comfortable with one another, but it also limits frustrations within the relationship allowing for a greater bond. When it comes to communication with your commercial cleaning service or cleaning company, being able to air your grievances about performance or even being able to give positive feedback will significantly improve your service. 
What your commercial cleaning service should communicate with you
Communication is important in every aspect of a partnership, but there are some things that require more transparency than others. There are essentially five key topics that should be freely discussed among commercial cleaning companies and their clients, including:
Their Point of Contact
The absolute first thing you should do with your clients is to provide them with an established point of contact within your organization. Assigning designated point persons or account managers ensures that your clients have a resource for consistent communication. The point of contact should reassure their clients that they will be available to answer any questions, concerns, and more to show that the commercial cleaning company has a genuine interest in its clients and their needs. 
Customer Expectations
Any working relationship should begin with a conversation about expectations and how those can best be met. This is very likely outlined in the working contract, but it is important to have regular open and honest discussions with clients to reinforce those expectations and hold each party accountable. During these talks, it would be helpful to identify the services that are and are not included, discuss procedures and policies, and finally, learn your client's expectations as far as cleanliness, etc. 
Having these open discussions early in the relationship will set the foundation for trust between you and your clients and will help you retain them long-term. 
Cancellations and Late Policies
Any business that relies on staff to accomplish tasks knows that anything could happen at any time. If unpredictable circumstances arise and an employee is going to be out sick for the day or is running late, it's crucial that the client is made aware as soon as possible. Your commercial cleaning service should share its policies regarding staff delays or cancellations early on so that you can prepare in the event that this happens. Outlining these policies as clearly as possible shows clients that there are systems and processes in place and may lead to an effective backup solution. 
Accidents and Damages
While it is always your commercial cleaning company's goal to leave your belongings unharmed, accidents can happen. How your cleaning service handles those accidents is what truly matters though. With instant reporting, both the client and the management team will be promptly notified of the incident. Honest and upfront communication makes it more likely that the cleaning company will be proactive with your situation and take immediate action. 
Feedback
Feedback, both negative and positive, is highly important for success and growth within a business. A commercial cleaning service that encourages feedback, whether it's good or bad, is eager to know how they can improve their services to ensure client satisfaction. It's not uncommon for customers to stop using their cleaning company due to grievances that haven't been addressed. The cleaning company may not even realize there is a problem until it's too late, so be sure to speak up if you're concerned about anything regarding your service. 

How Reno Sparks Janitorial Puts Clients First With Open Communication
Having an open line of communication is something that Reno Sparks Janitorial prides itself on. Thanks to our honest discussions with clients, we're able to provide better service. Our routine inspections and maintenance tasks are considered a top priority. We have also dedicated time to stripping and waxing floors for clients affected by the snowmelt. When you work with Reno Sparks Janitorial, you can rest assured that you're being taken care of. We provide another set of eyes to your cleaning needs, ensure they are handled, and take quick action to deliver the best cleaning service possible.
Connect with us today to get a quote for your commercial cleaning service!
If you're searching for reliable, quality janitorial services for your business, you want to make sure the commercial cleaning company you hire can accomplish all of your cleaning goals. A concierge-style janitorial service ensures that all of your cleaning needs are met to your highest satisfaction. Leave the cleanliness of your building in the capable hands of a commercial cleaning company that puts your needs first, no matter what they may be, so you can focus on other business objectives. 
Commercial janitorial services have a wide range of benefits for you and your business. Learn more with Reno Sparks Janitorial below. 

What is a concierge-type commercial janitorial service?
Most janitorial companies provide a range of cleaning services to commercial properties, but they aren't always inclusive. Much of the time, a commercial cleaning company will only list some of the services you're in need of and exclude others, leaving you to seek additional services elsewhere. For example, most commercial cleaning companies offer floor cleaning and window washing, but what if you also need your dishes cleaned and the trash regularly taken out?
A concierge-type cleaning service utilizes the highest standards of hospitality and personal service to provide you with all of your commercial cleaning demands. While your cleaning company may not always be able to provide every cleaning service you need, working with a concierge-style janitorial company ensures you receive all the services you require one way or another.
Why work with a concierge-style janitorial company?
A concierge-style business that offers commercial janitorial services provides a holistic approach to all of your cleaning needs. While we may not offer every cleaning service you're looking for, we can connect you with the appropriate channels or organizations to accommodate your needs. Concierge janitorial services can offer you convenience, time and quality that other cleaning companies simply cannot.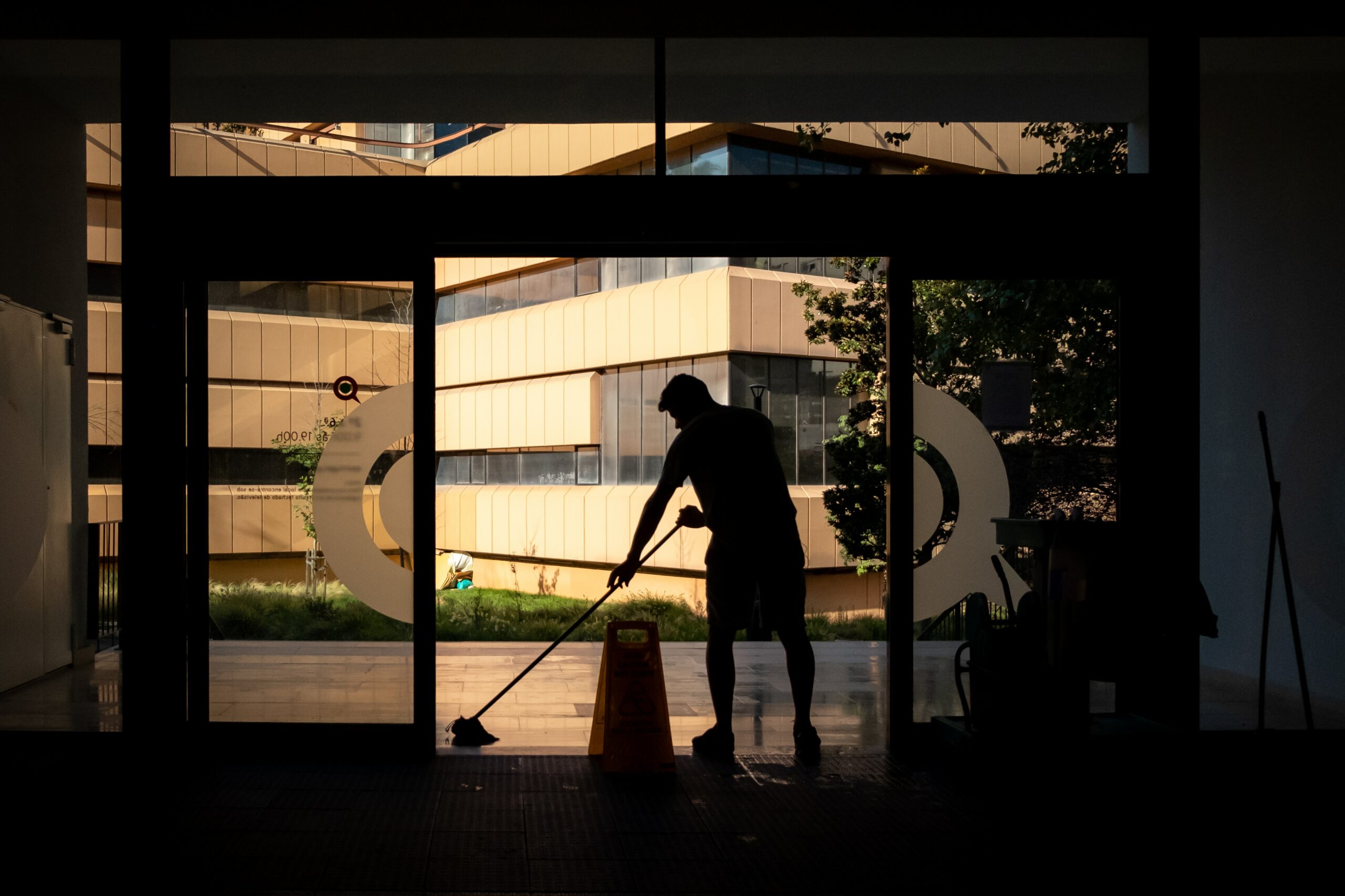 Convenience
Most business owners are quite busy with the daily operations of their company that they don't have the availability to handle every detail of running their business, such as cleaning. However, maintaining a clean work environment and business is important, so why not let your cleaning service help you find a solution? A commercial janitorial service like Reno Sparks Janitorial offers its own variety of cleaning services and has connections with other businesses to provide assistance with whatever else you may need, with little to no disruption to you. 
Time 
Another asset business owners and businesses in general lack is time. A concierge-type janitorial service can help free up time for you and your employees to tend to other pressing tasks. We'll provide you with all of the resources you need to ensure your commercial building or office space is well-maintained even in the midst of all the other things that need to be done each day.
Quality Service 
You'll receive a higher quality of service when working with a concierge-style cleaning company because the research of finding the best company for the job has already been completed. You can trust that you're getting the best service from other organizations because they were recommended to you by professionals in the industry. If anyone knows which company is the best to work with, it's someone who is already familiar with the industry and has experience working with other organizations.  

Commercial Cleaning Services from Reno Sparks Janitorial 
Our concierge-type commercial janitorial service may cost a bit more than your average cleaning service, but the value is far greater than you would receive anywhere else. The higher pricing ensures that your business receives the highest quality service possible. Although we may not have the lowest prices in town because we pay our staff above the industry average, the results outweigh the costs. 
The end result is fewer headaches for our customers, more consistent service and less turnover in the janitorial crews cleaning your buildings. See how working with a commercial janitorial service can help your business succeed today!